Airhole Adult Burgler Pullover Knit Balaclava Face Mask, Black, One Size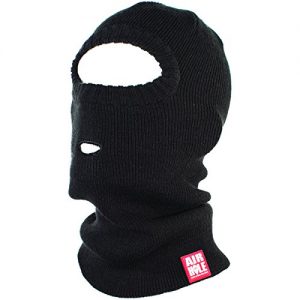 There's nothing worse than finding germs, mold or fungus on a garment, except maybe a live bear. That's arguably worse, but bacteria are pretty damn nasty and we found a way to repel it – Airholes have Antimicrobial coatings.
Patent Pending: Breath Technology – Facemasks have the perfect size, shape, and positioning for the breathing hole. Now wearers can breathe, talk and drink while being protected from the elements.
Airhole: Facemasks You Idiot!
The professionals' favorite and perfect under a helmet, the Balaclava is superior in warmth and functionality. The Flexible face piece can be pulled down which allows the wearer to cool down or eat lunch without removing the mask
TEMPERATURE RATING: COLD ( 0°C / 33°F to -10°C / 14°F ) FABRIC: Super Soft 100% Acrylic Yarn Signature Embroidered Airhole for Breathing Antibacterial Coating to Stay Fresh Airhole Burgler Pullover Knit Balaclava Face Mask for Adult