DGI MART Ladies Girls Decoration Accessories Nail Art Water Transfer Decor Stickers Decals HALLOWEEN SPIDER & WEB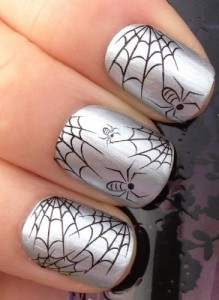 DGI MART Nail Art Set Kits Water Transfer Decor Stickers Decals
Have you got troubles in finding something to make your nails shinning?
Here is a set of attractive nail water transfer decor decals just for you!
JUST DO IT with your imagination , creates beautiful Styles & creations, add gems, use 2 or more different nail varnishes and so on!
Simple & easy to apply and remove – with brilliant looking results.
Can be used on natural, false, gel, acrylic or stick on nails!
Each sheet has 14~20 clear backed water transfers decals.
Practical Using Tips
1. Trim & clean your nails.
2. Paint your nails with the colour of your choice.
3.Cut out the Style you want to use & plunge into water for 10-30 seconds.
4.Using tweezers or a gentle touch- place the water transfer in the desired position onto your nail.
5. Sop up any remaining water with a tissue & either wait for 1-2 minutes to set or blast for 30 seconds with a hairdryer.
6. apply top coat & allow to dry!
Check for more nail decoration products in better price and quality!
DGI MART Ladies Girls Decoration Accessories Nail Art Water Transfer Decor Stickers Decals HALLOWEEN SPIDER & WEB