Donald Trump Celebrity Latex Mask Ideal for Parties Halloween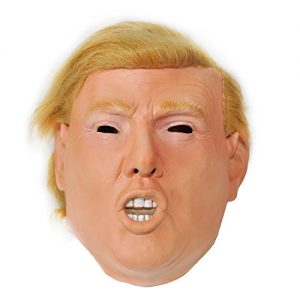 Reach #1 in the polls
With our latex Donald Trump Novelty Mask, you are sure to surge in popularity. This life-like depiction of one of our most controversial political and reality TV personalities will have friends and family doing a double-take. Weíve captured his persona in mid-speech, with eyes narrowed and mouth open, so that you can captivate onlookers with some of Donaldís most notorious opinions on public policy.
Durable and easy to use
This one-piece mask slips easily over your head and allows optimal sight and respiration through holes cut where the eyes, nostrils and mouth are. Letís face it: he wouldnít be Trump without that gravity-defying mane, so we gave our mask realistic hair. To keep your mask fresh and clean between primaries, we recommend wiping it clean with a moist towelette or a damp cloth, and then letting it air-dry.
30-Day Risk-Free Guarantee
Try our Donald Trump Novelty Mask for 30 days. If it does not meet your expectations, return it for a 100% refund of your purchase price.
MAKE AMERICA GREAT AGAIN or at least your next party. Our Donald Trump Novelty Mask lets you revel in The Art of the Deal, to the delight of guests. Turn any gathering into something really special.