Donald Trump Mask Donald Trump Costume President Mask – US Lapel Pin Included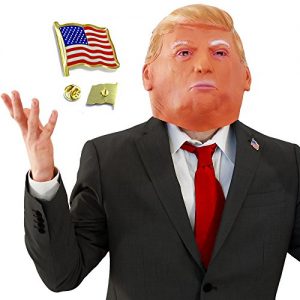 MAKE AMERICA & YOUR NEXT EVENT GREAT AGAIN! – Whether you love him or hate him, do your part to support or slam this global, raucous wise-cracker. Assume whatever character trait you wish of America's latest president because in "TrumpLand", anything is allowed!
INDULGE IN SHAMELESS COMEDY – You'll be the centre of attention at your next costume party! Nothing could give you stronger license to be politically incorrect than this one-size-fits-all Donald Trump mask. Make all your friends laugh as you masquerade as the world's latest and most powerful misfit.
TRUMP YOUR FRIENDS OR SCARE YOUR WIFE – Beat every other costume with this authentic, American president mask, or simply scare your wife when she least expects it. Either way, keep the humour about the latest and greatest American presidency alive!
FLAUNT AMERICA'S FLAGSHIP FACE – Stir up trouble. Talk some smack. Throw on a suit and this mask and indulge in notoriety for a night in a Donald Trump costume. No Halloween party would be complete without an American political figure represented and you'll be a hit in this mask! Or simply stuff it, stick it, and make it a scarecrow that your neighbours will envy!
MAKE A STATEMENT AT THE NEXT POLITICAL RALLY – You'll definitely be noticed amongst the crowds in this realistic Donald Trump mask, complete with signature Trump comb over! It is eco-friendly, well designed, and 100% latex so you can wear it comfortably for hours.SHIPS FROM USA: Totally Silly and sardonic President Trump Mask sporting typical Trump "smug-mug" expression