Donald Trump Wig – #1 Quality Wind-Tested Replica Wig – HAIRSPRAY NOT INCLUDED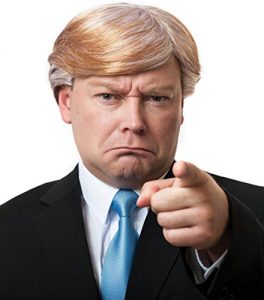 This Donald Trump hair is recommended for kids and adults of all ages. It's a must have for those interested in:
1) Making fun of Donald Trump
2) Hosting Donald Trump themed parties
3) Commemorating the 2016 USA Presidential Election
4) Using it as a tissue to wipe away your tears of frustration at the state of events
5) Washing your dishes

In order to achieve optimal Trumpness please follow the below tips/instructions:
1) Apply hair-spray – A LOT OF IT
2) Brush it back like it's road kill
3) Make abusive comments
Recommended Sayings to Go With Your New Trump Head:
– I know what sells and I know what people want.
– All of the women on The Apprentice flirted with me- consciously or unconsciously. That's to be expected
– Every guy in the country wants to go out with my daughter.
– What I say is what I say.
– If I get my name in the paper, if people pay attention, that's what matters.
– Controversy, in short, sells.
– The show is 'Trump'.
Money-Back Satisfaction Guarantee!
We're so confident that we make the best trump wig that we offer a 10-day, no questions asked, money back guarantee!
#1 REPLICA DONALD TRUMP WIG – Just add Hair Spray and comb it back!