Nava New Sexy Black Spiderman Spider Web Long Arm Warmer Fingerless Halloween Costume Dress Gloves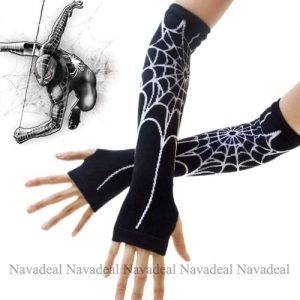 Thank you for viewing this item.

Our estimated shipping leadtime for standard shipping service is 7-16 business days, faster than Amazon estimation.
Your can track your orders on: www.usps.com.
Stylish Celebrity INSPIRED HALF FINGER REVIT GLOVE
Statement accessory pieces like this one can give your outfit a glamorous and stylish element
Perfect for bringing a little trendiness to your outfit
This season, the half glove appeared in many runaway shows. And, after seeing Carrie wear the style a few times, us regular gals are a little more inclined to brave the look!
Color: Black
Style: Half Five Finger Gloves
br>
Package Includes:
1pair of Spiderman
Long Arm Warmer Fingerless GlovesMateril :Poly Cotton knitting