SPRAWL Classic Analog Round Face Genuine Black Leather Gold Watches Present for Women Fun Design — Smile Pumpkin and Candle Watch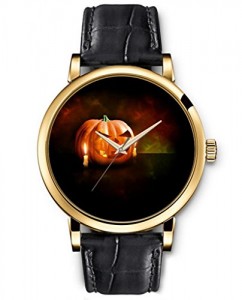 SPRAWL Analog Fashion Series Gold / Silver Ladies Watches Made of Genuine Black Leather Strap.
Superior Quality:
SPRAWL adopts Japanese technology to make sure customer receive high quality watches.
The genuine leather gives you fantastic touch feeling.
Also equipped with durable mineral dial window sturdy buckle closure this watch is sure to meet your expectation.
Creativeness:
Wrist watch is the guardian angel of the time. But many designers ignored the decorate function to wrist as a necklace to your neck, a ring to your finger.
Therefore, combined with timekeeper and fashion, SPRAWL designers came up with hundreds of thousands of designs for you.
With a variety of designs and color, you can make thousand choices per your preference.
No matter it is fashion, casual, elegant, business or distinctive style you need, you can find in our store to perfectly match your daily dress.
With our watches, you are a fashion pioneer. A day is much more wonderful with SPRAWL watch. Come with us to enjoy fabulous days!
SPRAWL@ Philosophy:
100% Customer Satisfaction!
SPRAWL@, as new fashion pioneer brand, is committed to providing high quality items and excellent customer service with great price, prompt shipping.
As a company always putting customer in heart, we not only sale products to customer, but also trying to bring you a wonderful shopping experience.
We stand by your side, we love hearing what say and trying all our best to satisfy you. Go ahead shop in our store today!
Your Satisfaction is always our NO.1 priority!
*Quality: 100% Brand new good quality excellent timekeeper