Trick or Treat Bucket Bundle: 2 Plastic Halloween Buckets, 2 Pair Glow Eye Glasses, 2 Glow Sticks with Toppers, 2 Halloween Mini 4″ Flashlights on Lanyards (Batteries Installed), Two Sets of 3″ Glow-in-the-dark Martian Fingers (2 Per Set – Total of 4), 2 Foam Cartoon Bubbles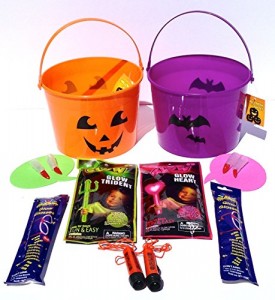 Your ghosts and goblins will shriek with delight when they open this Trick or Treat Bucket bundle. The Halloween buckets are perfect for collecting treats and have many uses after the BIG night is over. The Glow Eye Glasses, Glow Sticks, Glow-In-The-Dark Martian Fingers and 4″ Mini Halloween Flashlight will help you spot your chidden as they dash from door to door. And when the night is over, kids will want to use their Foam Cartoon Bubbles to write spooky notes like. "KEEP AWAY FROM MY TREATS!"
Have a happy and safe Halloween!Make Halloween spooktacular for your ghosts and goblins with this Trick or Treat Bucket bundle.