Alwoe Venom Cosplay Halloween Lycra Spandex Unisex 3D Style One-Piece Body Tight Clothing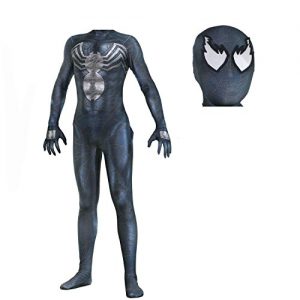 Cosplay costume,you can dress it to take part in the cosplay party,it's very amazing.
It can be a nice gift,creat a high-end grade atmosphere, Cosplay preferred clothes.
Features:
Country of Manufacture:China
Below is the detailed standard size info.
If you have any inquieries about the size, please do not hesitate to email us.
SIZAE reference
Male–XS :155-160 Height(cm)|76-84 Chest(cm)|64-71 Waist(cm)|79-86 Hips(cm)
Male–S :160-165 Height(cm)|81-89 Chest(cm)|69-76 Waist(cm)|84-91 Hips(cm)
Male–M :165-170 Height(cm)|86-94 Chest(cm)|74-81 Waist(cm)|89-97 Hips(cm)
Male-L :170-175 Height(cm)|91-99 Chest(cm)|79-86 Waist(cm)|94-102 Hips(cm)
Male-XL:175-180 Height(cm)|96-104Chest(cm)|84-91 Waist(cm)|99-107 Hips(cm)
Male-XXL:180-185Height(cm)|101-106Chest(cm)|89-96 Waist(cm)|104-112 Hips(cm)
FeMale–XS :150-155 Height(cm)|71-79 Chest(cm)|58-66 Waist(cm)|74-81 Hips(cm)
FeMale–S :155-160 Height(cm)|76-84 Chest(cm)|64-71 Waist(cm)|79-86 Hips(cm)
FeMale–M :160-165 Height(cm)|81-89 Chest(cm)|69-76 Waist(cm)|84-91 Hips(cm)
FeMale-L :165-170 Height(cm)|86-94 Chest(cm)|74-81 Waist(cm)|89-97 Hips(cm)
FeMale-XL:170-175 Height(cm)|91-99 Chest(cm)|79-86 Waist(cm)|94-102 Hips(cm)
FeMale-XXL:175-180 Height(cm)|96-104 Chest(cm)|84-91 Waist(cm)|99-107 Hips(cm)
Kids size chart:
S :115-125 Height(cm)|60 Chest(cm)|52 Waist(cm)|58 Hips(cm)
M :125-135 Height(cm)|65 Chest(cm)|56 Waist(cm)|64 Hips(cm)
L :135-145 Height(cm)|70 Chest(cm)|61 Waist(cm)|68 Hips(cm)£¡Fabric:Spandex Very stretchy