Manles Men's Star Wars Hux Cosplay Costume Medium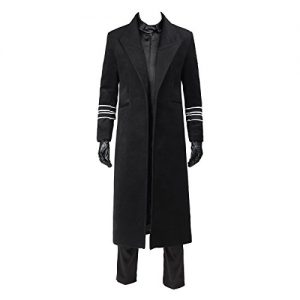 Manles Men's Clothing Size
XS bust 30"-32" waist 24"-26" hips 34.5"-37" height 63"-65" arm 29.5"-31"
S bust 34″-36" waist 28"-30" hips 37"- 39′ height 65"-67" arm 31.5"-32"
M bust 38"-40" waist 32"-34" hips 39.7"-41.7" height 67"-69" arm 32.5"-33"
L bust 42"-44" waist 36"-38" hips 42.9"- 44.9" height 69"-70.8" arm 33.5"-35"
XL bust 46"-48" waist 40"-42" hips 45.6"-47.6" height 70.8"-72.8" arm 34.5"-35"
XXL bust 50"-52" waist 44"-46 hips 48.8"-51.8′ height 72.8"-74.8" arm 35.5"-36"
XXXL bust54"-56" waist 48"-50" hips 50.8"-53.9" height74.8"-76.7" arm 36.5"-37"
If custom-made,please send us your measurement like weight,height,waist,chest,hip,arm length,inseam.then we can make it all as your measurement (In inches Or Cm)
Notes:
1). It usually takes our dressmakers 3-5 business days to complete the production of the costume.
2). You must carefully make the measurement and it is your responsibility to offer us the correct measurement.
Return Policies: It is easy to return an item you are not fully satisfied with. We offer full price refund and exchanges within 30 days, shipping costs however are non-refundable and the buyer must pay all the return shipping cost. All items must be returned in original condition. 
Refunds are not granted after 30 days. If we receive your return after 30 days from your date of receipt, you will have the opportunity to exchange for any store item(s) of equal or lesser value at that time.
Refunds will not be granted if the item is worn, altered or damaged in any way. We expect garments to be tried on, but please refrain from wearing perfume or deodorant, and please avoid pet hair and smoke.Components: top+pants+trench coat+belt+gloves