Nightfall Mens Vampire Halloween Costume 44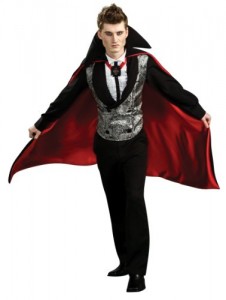 It's time to stalk the night! And if you need a ghastly garment to quench your blood thirst this Halloween, then this Nightfall Vampire Halloween Costume is just what you need!
This ghoulishly great outfit features a long, black exterior, crimson interior cape with stand up collar, an attached, floral design, black and silver vest, a pearl white shirt, and a black medallion with a ruby center to bring out the Victorian vampire in you this Halloween!
With this Nightfall Vampire Halloween Costume, you'll have the perfect finishing touch for that vampire veneer this Halloween season!Available in Sizes:: Available in ONE SIZE ONLY