Smiffy's Elf Costume with Tunic, Trousers and Hat – Medium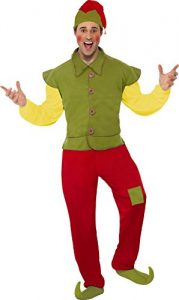 Why not help Santa out this year with this Elf costume for men. The costume comes complete with hat, trousers and tunic top. Great outfit for those festive occasions.The costume is a medium so will fit men's UK dress size 23-40″ chest and 32-34″ waist.
Elf Costume includes Green Tunic, Red Trousers with Green Patch and Elf Hat.