SPJ: Women's Gold Metalic Leopard Catsuit Sexy Bodysuit Halloween Costume Set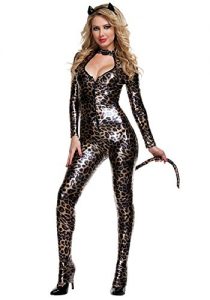 The owner of "Super Price Japan" shop is a native Japanese, and our products are stored in Amazon Official Warehouses in USA,
so you will get our products as soon as possible after you buy.
• The makeover to the Queen!
• It is a sexy leopard print catsuit with breast has come to be wide open at the zipper.
• Catsuit Because the enamel material is glossy, so lame is on I am shining.
• Tail is attached.
• Cat ear headband comes with a set.
• By makeover sexy queen, not Please enjoy!
Fray, Wrinkle, Lint, etc.
Returned goods by the reason can not be accepted.
Please purchase on your understanding.Enamel leopard sexy cat-style bodysuit all-in-one