Baby Heinz Ketchup Package Bunting (3-9 months)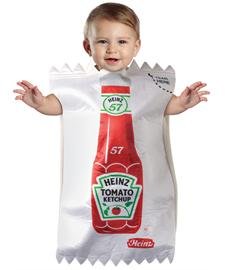 Picking up a cheeseburger or a hotdog means you'll also have to top it off to make the perfect meal. Some go for some mustard but if you're really in the know then you'll grab a packet filled with tomato goodness. That's right, if you pick up anything that has been on the grilled you better add some ketchup to it to make sure it is extra tasty.
Now to get your little one in on the fun of Halloween for your food themed group this great bunting costume will work great. Just don't be surprised if all your little one wants to eat is ketchup this holiday.
Includes: Heinz ketchup bunting