20 FOOT GIANT HANGING HALLOWEEN FRIENDLY BLACK SPIDER – PLASTIC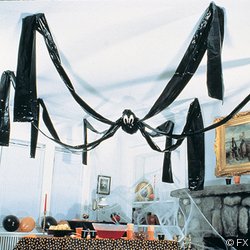 Plastic Giant Hanging Spider. Can be Used Indoors or Outdoors. Easy to assemble. 20 ft. Perfect for Classrooms, Office Halloween Decor or for Your Party! Spider is Friendly, Cute and Fun..NOT Spooky.
Not suitable for children under 8 years of age. WARNING: To avoid danger of suffocation, keep away from babies and unsupervised children.HUGE! 20 FEET WIDE!