DELUXE HALLOWEEN BAG OF SKELETON BONES – FULL 28 PIECE SET – PERFECT FOR A HALLOWEEN GRAVEYARD or HAUNTED HOUSE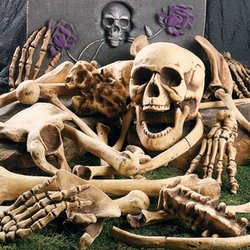 A collection of spooky skeleton bones to spread across your haunted house graveyard! Perfect decor item that'll surely add that extra spooky feeling to your party! Foam Bag Of Bones. Assorted styles in a mesh bag. Pieces are 6″ – 12″ Accessories shown in picture are not included.
Spooky assortment of bones!

28 Pieces total

Bones measure 6″ to 12″ assorted.

Perfect Halloween Graveyard Decor!

**On Sale Today!** While supplies last.