Domire Battery Operated LED Fairy String Lights 20 Blue Bat Lights Halloween Decoration Lights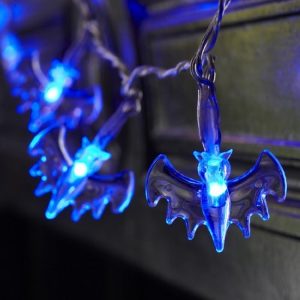 Don't be left in the dark this Halloween, these 20 LED battery operated Bat fairy lights are ideal for placing in the home to brighten up your Halloween party. Requiring just 2 x AA batteries (not included) these lights are simple to use, and most importantly are totally safe.
Perfect for finishing your children's Halloween outfits & keeping them lit up! These indoor Bat battery lights are a creative alternative to candles and are so much – the perfect accessory for your Halloween event.
Placed around a doorway, these novelty Bat lights will ensure your entrance is glowing for all those trick or treaters! Dress your children with battery operated Bat lights to ensure they are spookily dressed this Halloween!
The bulbs stay cool to the touch and can be safely used anywhere in the home – the discreet battery pack means it can be easily disguised in your display without leaving trailing wires, so you don't have any excuse not to celebrate Halloween this October.
Package Including:
1 x LED Bat Style String LightNew Brand and High Quality.Stylish design, a great decoration.