Lady Flying Crank Ghost Fcg Animated Motorized Halloween Prop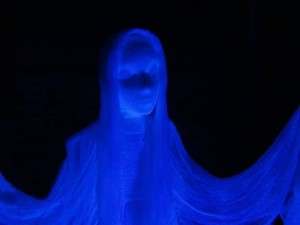 This is the ultimate in Halloween props
We have received nothing but compliments on the various designs that we have displayed at our business throughout the Halloween season.
Our creations levitate up and down above the ground as the arms waive eerily. It looks as though they are floating effortless through the air, ready to creep everyone you know out! Our creations glow with the assistance of a blacklight (not included in this auction) and they are very lifelike. We use a motorized rig that is to be mounted above the ghostly creation. (It is fairly simple and we will provide you with detailed instructions) We are very proud of our creations and they are sure to be a hit at your home and / or business.
INCLUDED in this Auction:
Motor:
Our Gear Motors have ran over 24 hours with no problems and 6 hours each day of October for the whole month!!!!
Rig:
We have created a aluminium rig with a compact designed for easier storage. The rig is tailor made for each ghost that you order. It has been tested and is ready to hang as soon as you get your prop ghost out of the box!
Eyes:
Each Ghost will come with 6 interchangeable eyes (Blue,Black,Yellow,Red,Orange,Green). The eyes are not led so you will be able to make your whole ghost disappear and reappear using a oscillating fan.
Dress up:
Our Ghosts clothing is masterfully tailored and cut by our artisans. The fabric is double the thread -count, making it more life-like and durable. Notice how the gown flows perfectly. This cloth is specially treated and it will glow under a black light
Balancing Act:
Each and every Ghost is carefully weighted and balanced to the rig. We test each product for the smoothest and quietest operation before shipping.
All you need:
A 3ft by 3ft space to hang your ghost like your front porch or inside your home in front of a window if you choose to keep your ghost inside)
A black light
Power outlet (a simple power outlet will do.)
Hardware for your ceiling where you hang your ghost.http://www.youtube.com/watch?v=7drL0OEsmGQ