LIDORE Set of 10 Halloween 3D Jack-O-Lantern Pumpkin Decoration String Lights-For holiday, festival, party decor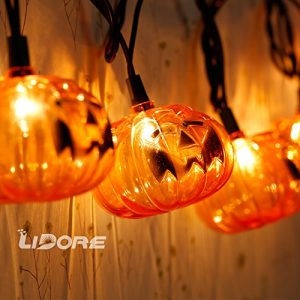 Make every night as a starry night

Elegantly illumine the dark hours with the celestial beauty of these white and handicraft lights. They transform the landscape of your backyard and offer a new dimension to dining outdoors after nightfall.
Increase your ambiance

The copper wire flexes and bends in any direction. Arrange the strand in a circle or uncoil the pliable copper into a new shape across your patio deck, on a garden wall, or even in a bedroom for a magical note. Simply display and savor the atmosphere.
Maximum output, minimum care

Don't let their small size fool you: these 10 LED lights glow brightly. It is able to be reused season after season.
Promise and Gaurantee

Our company stands behind all of our products 100%. If for any reason you are not completely satisfied with your purchase, please contact us. Our industry-leading commitment to you will make things right!LIDORE Jack-O-Lantern Decoration String Lights includes 10 counts 3D pumpkin lantern shaped light shells. Each one contains 1 incandescent mini light. Rich orange glow. It is a great funny stylish design for Halloween or other festival decor.