PESTILENCE THE SMOLDERING REAPER LIFESIZE 6′ Animatronic Animated Halloween Prop MR-124219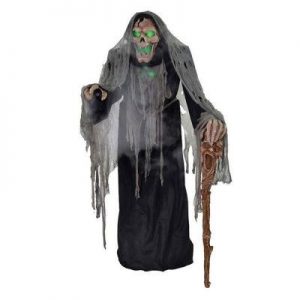 6 feet tall, Pestilence the Smoldering Reaper features a tattered full black robe with gray torn fabric accents, a belt with 3 hanging plastic bones, hand-painted roto-PVC head, hand-painted roto-PVC hands & ribcage, and holds a 54″-long plastic cane. Plug in the UL adapter plug into any standard outlet for the head to turn side-to-side and to power the sensor. The sensor is light/shadow/motion sensitive and will operate the pulsing green LEDs within the skull & chest, and Pestilence will say one of three sayings with each activation of the sensor. Set your fog machine (not included) on the floor within his cloak & watch the fog flow eerily out from within the holes in his chest, arms & head. Assembly required. Sayings are: You shall know me for fillowing clow of plaque in my wake , for I am pestilence incarnate- approach and seal you doom! Smell the stench of death wrapping around you. I will pull you tightly into my embrace. With just one touch your health and vitality will be sucked from you forever. Please come closer!
Animated Creeper Character has a soft PVC head with a moving mouth and light-up eyes, a tattered costume with gauze details and blow-molded hands.

The prop starts at a 40″ height with the head down and the arms folded into the chest; as he rises to 60″ the head lifts, eyes light up and arms open out to the side.

Sturdy metal frame has the rising mechanism attached, Also includes a UL adapter, IR sensor with Step Here pad option included.

Functions include: Steady-On, Try-Me, or Sensor.

This item could also be used with a fog machine to give a creepy effect (not included), Recommended for indoor or covered porch use only.