Black Spider-man Costume – Children's Medium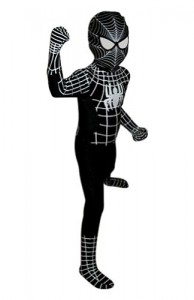 Green Man Factory body suits cover your entire body from head-to-toe. They have a zippered back and flexible, breathable material made from a spandex and lycra blend. The dual zipper allows the wearer the ability to zip down the head/facemask without having to take off the whole suit.
Green Man Factory body suit costumes come in over 20 different styles and we have sizes for kids and adults.
Full body suits are perfect for Halloween, tailgating, partying, arts & theater, business promotions, sporting events or just hanging out.
Simply put, Green Man Factory body suits make you stand out in a crowd.
Available in the following sizes
Adult Sizes –
Small: 5'2 – 5'6
Medium: 5'7 – 5'9
Large: 5'10 – 6'0
X-Large: 6'1 – 6'3
Kids Sizes –
Small: 3'4 – 3'10 (Age 6-8)
Medium: 3'11 – 4'5 (Age 8-10)
Large: 4'6 – 5'0 Age (12 up)NO COMPANY LOGOS on any body suit