Deluxe Child Camo Trooper Costume, Small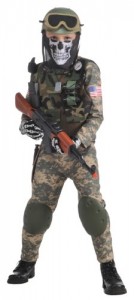 Let's face it. Your child never knows when he's going to find himself on a dangerous mission, fighting terrorists or working on a black ops kind of mission. That's just what happens when you raise a kid that's tough as nails and that's why you need to make sure your soldier is prepared with the kind of gear that make him look like the best commando in the army.
We're talking digital camouflage, vests, helmets and all the equipment that let a soldier do his job effectively. This trooper outfit has all those things in spades, so when the bad guys come for him. He'll have the situation on lock down.
Camo Trooper costume features green camouflage print jumpsuit

Vest, printed face scarf, helmet and knee pads included

Toy gun sold separately

Child's size small fits most 3 to 4 year olds, 44″ to 48″ tall with a 25″ to 26″ waist and 27″ to 28″ hips

For dress-up fun, a costume party, or Halloween, Rubie's Costume has been your costume company since 1947