Fun World Complete Zombie Child Costume Medium (8-10)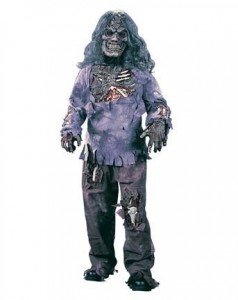 Is your child joining up with his friends to build a whole army? Whether you're remaking the hit Michael Jackson music video, making your own movie or just bringing terror to your Halloween, your boy will be ready to go in this Complete Boys Zombie Costume!
This zombie will decay away if she doesn't get some brains in his tummy soon! This Child Zombie Halloween Costume is a scary costume for kids. Your friends will run in fear when they see you wearing this very scary zombie costume.
Ready to go with pants and shirt with sewn-in body parts, gloves and one scary mask, there's no mistaking it – this zombie is out for you! Grab the Complete Boys Zombie Costume today, and have him group up with friends with our wide array of zombie costumes!Includes: Top, Pants, Gloves, Mask with Wig