Rubie's Drama Queens, Tween Tigress Costume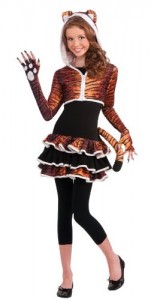 Wild as a tigress in this Drama Queen fashionista costume. Includes dress with tail, hoodie with paws and ears, and leg warmers. Tights not included. Available in Tween sizes Small 0-2 and Medium 2-4. Rubie's brings fun and fantasy to dress-up with the broadest selection of costumes and costume accessories. In business for more than 60 years, Rubie's also promotes safety in dress-up.Features include: Drama Queen's Tigress Costume features a black and tiger stripe dress with layered skirt an attached tailAlso includes hoodie with tiger paws and ears as well as tiger leg warmers.
Rubie's Drama Queen collection – because it's all about the fashionista,
Rubie's brings fun to dress-up with costumes and accessories kids play with all year long.
Drama Queen's Tigress Costume features a black and tiger stripe dress with layered skirt an attached tail

Also includes hoodie with tiger paws and ears as well as tiger leg warmers

Tween small fits size 0-2, medium fits 2-4

Black tights not included