Halloween is the perfect time for adults to dress up in sexy costumes and have a great time. Without compromising a person's reputation, a sexy costume can be worn to Halloween parties in a home or parties at an outside venue such as a club or restaurant. Couples can opt for matching costumes, such as the old-time favorite doctor and nurse, or they can dress individually. A single girl or guy might choose a sexy adult Halloween costume to entice another single person of the opposite sex.
Halloween costumes are a great way to step out of the normal routine, break away from stereotypes, and express oneself. This yearly holiday gives people one night to be sexy, provocative, and fun without affecting their reputation. An adult that may be considered conservative can let loose in a crazy outfit on Halloween without feeling disrespected or ashamed.
Costumes can include clothes, make-up, and accessories. Some adult costumes are created to be sexy and fun, while others are joke related, and still others reflect a person's favorite characters. Some people make their own costumes while others go out and spend a small fortune for the perfect adult Halloween costume. Dressing up for a costume contest means contestants will spend upwards of hundreds of dollars on their outfits, make-up, hair, nails, and anything else needed to complete the costume.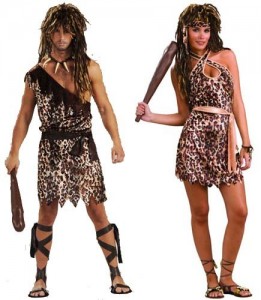 If a couple is looking to dress as a matching pair, there are lots of sexy adult Halloween costumes to choose from. Take the old favorite of doctor and nurse. A man can dress up as a handsome doctor with a white lab coat, scrubs with a top that has an extra deep v-neck collar to show off his chest, and a stethoscope. The nurse's outfit could include a tight, one-piece nursing uniform that has a very short skirt and deep plunging neckline. Thigh-high nylons with high heeled shoes and a little nurse hat can complete the outfit.
Other couple costume ideas include a Pilgrim and Indian, mafia man and mafia princess, vampire and vampiress, pirates, police officers, cow boy and cow girl, Adam and Eve, and a geisha girl and samurai warrior. How about a mile-high pilot and stewardess or a magician and his apprentice? There are also funny couple's costumes that are sexy yet will make people laugh, like a plug and socket, a key and a key hole, a hot chick and a chick magnet. Dressing up as a couple might just strengthen the bond between two people, but they will also have a great time and will create fun memories.
Single and going to an adult Halloween party? Adult costumes are only limited by the imagination. Any costume can be turned into a sexy adult Halloween costume by shorting the bottoms, making the neckline deeper, and even purchasing the costume in a size smaller so the outfit fits tighter. There are many sexy adult costumes available in retail and online stores including sexy fairies, angels and witches for women and police officers, boxers, and bachelors for men.
Adult Halloween costumes can get pretty pricey. To save money, try making a costume from old clothes and accessories around the house. Or, purchase the main outfit and use old shoes and accessories to complete the outfit. When going to a more upscale costume party, try renting an outfit from a local costume shop. Renting a great adult costume will not only save money, as it will most likely be cheaper to rent all the items than to purchase them, but the outfit can be returned after the party. Rented Halloween costumes tend to be more authentic looking and are typically higher quality than costumes manufactured for department and retail stores. When the situation calls for it, a rented costume will go a longer way in impressing other's at the party.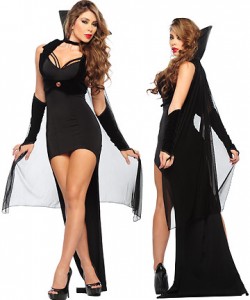 Dressing in a sexy costume can be a great way to meet other singles at the party. Role play with this new sexy identity, flirt with others at the party, use the costume to its full advantage. Remember, this is the one night a year when an adult can break away from traditional routines and let loose. Use the costume to dress up the best body parts and flaunt them. This is not the time to be shy, especially since a lot of sexy adult Halloween costumes tend to show off a lot of bare skin. This is a great time to connect with someone, and looking at other people's costumes will provide a lot of conversation.
Halloween costumes are memorable. People don't always remember what outfit another person wore at a specific time, but at Halloween, people will always remember an extra sexy or unique costume. A party at a venue will often have prizes for best costume. The most unique, sexy, well made, funny, and memorable costumes will win prizes. Sometimes there is only one category, Best Costume, and other times there are other categories in which a person can win a costume award. Either way, winners and non winners will always remember a particular Halloween party or Halloween costume and link it to good times in their lives.
Jeffrey is really just a big old kid who loves Halloween more than any other holiday on the face of the planet. He has accumulated a number of different adult costumes over the years but won't wear the same one twice. He is also quite stubborn.
Article Source: How to Make Sure Your Sexy Adult Halloween Costume Doesn't Go Too Far